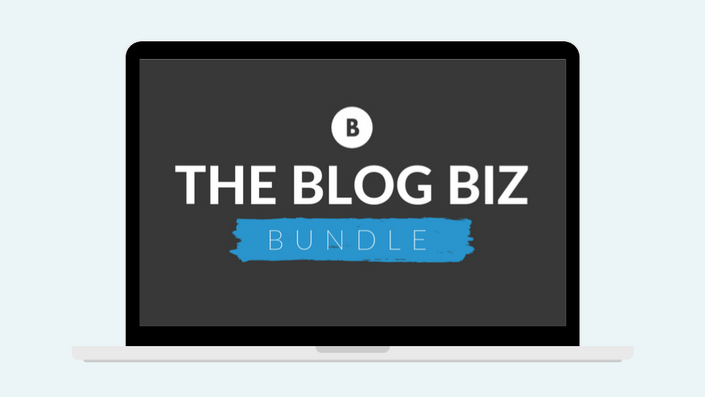 The Blog Biz Bundle
The starter-kit to help you find clarity & ease in growing your blog into a real business.
Let me guess...

You're overwhelmed with all the information you have to learn in order to really grow your blog,
You feel like you're doing everything your supposed to do but you get self-bummed when checking your stagnant numbers,
You want more followers & subscribers but you can't seem to reel them in.
You already know that you need to...
- Drive more traffic,
- Get more social media followers,
- Generate more email subscribers,
- Increase your blogging income,
- And ultimately grow your influence online.
But right now you're still waiting for your blog to hit it BIG.
Sound familiar?
Not too long ago, I was struggling to grow my blog too.
I couldn't figure out how others had managed to grow their page views, income, and social media following while making it look so easy!
After a much needed wake-up call, I decided to create a plan for my blog and change my work habits.
Within 3 months, I doubled my page views, started to generate over 100 email subscribers a month, AND I left my full-time position to take my blog biz full-time.
Now I'm my own boss living out my dreams every single day.
And you can do it too!

You can grow your pageviews by mastering the basics of Pinterest and SEO.
You can grow your email list to generate over 100 subscribers every single month.
And you can dramatically grow your blog in 90 days or less.
You just need the right strategies on your side.
Here's the cold hard truth.

If you don't start to grow your blog in the next 90 days:
1. You'll miss out on reaching the people that are already searching for you. Your audience is out there right now looking for the answers to their questions and your blog could be the answer they need to dramatically change their life.
2. Because people aren't finding you on platforms like Pinterest and Google, you'll miss out on the opportunity to grow your social media following and email list.
3. And because your audience isn't growing online, you'll miss the opportunity to make more money that would provide you with the freedom to take your blogging business full-time.
But most importantly, you risk the chance of giving up on your blog and settling for a life that doesn't live up to your fullest potential.
But if you follow the proven strategies that allowed me and several others to actually grow our blogs in just 90 days or less, it doesn't have to be that way!
Let The Blog Biz Bundle be your guide to actually

grow your blog in the next 90 days!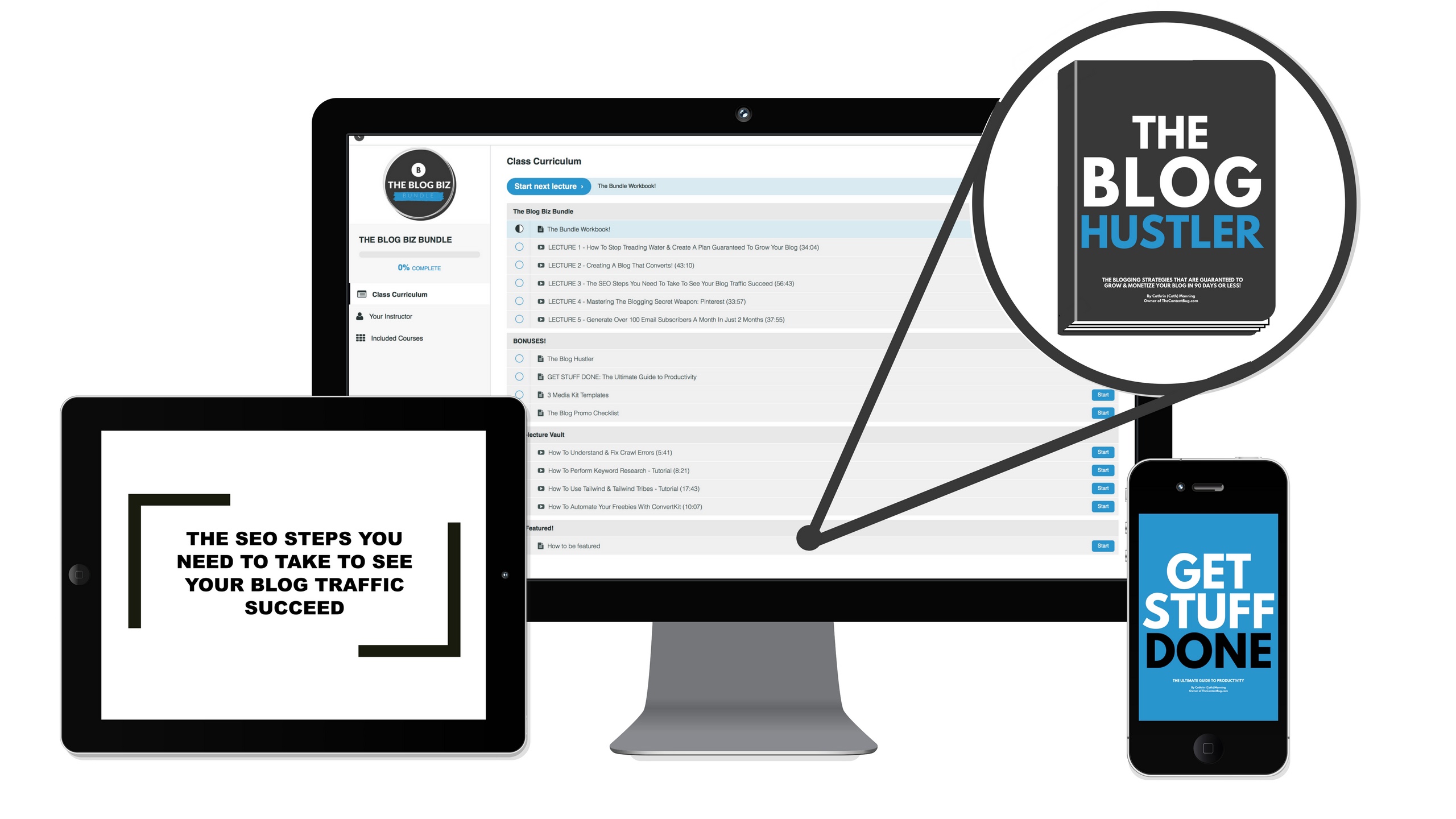 I created The Blog Biz Bundle to be the 1-stop to get all the strategies you need to actually grow your blog. No more surfing through Pinterest and turning to Google for the answers to your questions. This Bundle holds all the strategies that I used to dramatically grow my blog in just 90 days. Including the strategies that I still use today!
Honestly, growing my blog hasn't always been easy.
For 6 months my blog was stagnant.
- I was generating about 10 email subscribers a month,
- My blog traffic depended on actively sharing my blog posts in Facebook groups.
- And my income was non-existent.
I'm sure that were a lot of times that people looked at my blog and laughed. When they didn't want to follow me on social media, when they didn't care what I had to say, and they certainly weren't interested in signing up for my email list.
And there were times when no one could find me online.
I spent hours trying to learn all the strategies. I read blog posts, attended webinars, signed up for free email courses… but none of the strategies I learned seemed to work for me.
There were times when I thought that my blog was the problem. And even worse… sometimes I told myself that I was the problem.
It wasn't until I decided that to take matters into my own hands and decided to test out some of my own strategies that my blog took off!
Within the next 3 months…
- My blog generated over 100 email subscribers a month,
- My blog traffic doubled and I no longer had to rely on Facebook groups for traffic,
- And my blog income allowed me to leave my full-time position to take my blog biz full-time.
But it wouldn't have been possible without the strategies that I'm sharing in The Blog Biz Bundle!
Here's what you can expect:

1. Perform an evaluation on your blog to learn what's working and what's not working,
2. Understand where you need to channel your energy over the next 90 days,
3. And properly set goals and create a plan that will make achieving your goals inevitable.

1. Learn the basics to designing an engaging and actionable Home Page,
2. The pages you absolutely need to include on your blog,
3. And the best opt-in placement to land more conversions than ever before.

1. Understand the basics of Search Engine Optimization (SEO) and what affects your ranking,
2. Tell Google that you're website exists by setting up Google Search Console,
3. And SEO your blog posts, pages, and images to perfection to generate more organic traffic.

1. Find out the difference between Pinterest and other social media platforms,
2. Master the basics of Pinterest SEO to dramatically improve your visibility,
3. And properly place keywords so your profile and pins appear in search.

1. Follow the exact 2-week strategy that lead me to get 100 email subscribers a month,
2. Determine the freebies you need to offer on your website for the most impact,
3. And properly place those freebies throughout your blog to get more subscribers.
BUT WAIT... there's more!
This isn't called a bundle for nothin'.
When you sign up to The Blog Biz Bundle, you'll also receive:
My 150+ page ebook/workbook designed to give you the exact strategies and action steps that you need to follow for guaranteed blog growth in just 90 days or less! ($21 value)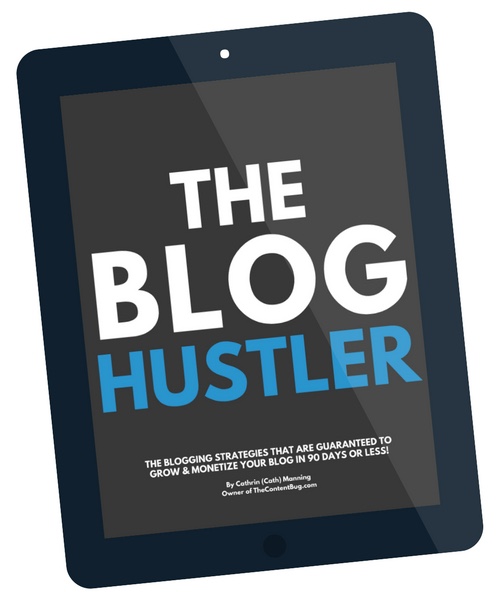 2. GET IT DONE: The Ultimate Guide To Productivity
"I'm jealous of your hustle." – I get this comment all the time! But I wouldn't say that my hustle is much different from yours! I've just learned how to properly manage my time to get more done. In this ebook, I'm sharing my best productivity insight and spreadsheets to improve your productivity levels! ($14 value)
3. A Vault Of Mini-Lectures
This vault contains mini-lectures addressing the questions that you have! This vault will continue to grow over time as members of The Blog Biz Bundle have questions about certain topics. ($35 value)
4. 3 Media Kit Templates
Do you have a media kit ready to send to brands that you want to work with?! If not, it's time to design one. Available for easy design on Canva, you'll get access to 3 unique templates to create a media kit that you'll send to brands to land sponsored posts and other brand deals. ($21 value)
5. My Blog Post Promotion Checklist
Pretty straightforward. You'll be getting access to my blog promotion checklist that I use when I launch every blog post on TheContentBug.com! ($5 value)
That's over a $95 value for just the bonuses!
What people are saying about the bundle: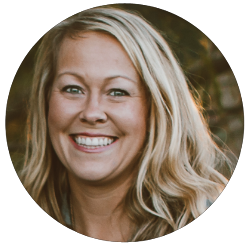 "I wish I had all that information a couple months ago! I already took your SEO suggestions and improved my score from 76 to 88!"
- Sara from ImperfectlyBalancedSara.com

"I love that the information offered through the Blog Biz Bundle is not the 'basics' on how to set up the blog. Cath offers you more in-depth information to take your blog to the next level. She shows a whole new way of thinking about how to best showcase your blog. I couldn't stop pausing each lecture and immediately implementing all the information she offers. Within the first 20 minutes of watching Lecture 1, I had revised so many things and have made my blog easier to navigate and look professional. The e-book on Productivity is a life-saver and adds another level of teaching that others typically don't think about. Thanks, Cath!"
- Jackie from HudsonValleyExposed.com

"Not knowing what to expect, Cath's bundle really caught me off guard! Whether you're a beginner or somewhat experienced blogger, this bundle caters to all levels of blogging! From writing something you're passionate about, driving traffic through SEO and social media, different templates and kits you can use, prepare to benefit one way or another!"

- Geoff from DownToLearn.com

"Cath's class has literally been a life saver for my blog. I started my blog a year ago. I love to write, and I wanted to connect with others around the world that are passionate about the same things that I am. As fellow bloggers, you know that we spend many hours putting together quality posts. If your post goes no farther than your own computer screen, then what's the point?
I tried everything I knew to do to promote my blog. I posted on numerous social media sites and paid for boosting but still didn't receive the results that I was looking for. I was considering closing my site and cutting my losses when I discovered The Content Bug on Pinterest. Cath knows how the internet works and how to drive traffic. Fortunately for us she is wanting to share her knowledge! Her courses are well planned and will speak to your individual learning style. She has worksheets, videos, planners and how-to's that will walk you through the behind the scenes programing that drives your blog on google, Pinterest and other search engines. She will guide you in your site layout design, SEO, plug-ins that matter, e-mail lists and more. In the past two weeks since I have begun to implement her techniques, my blog traffic has increased over 400%!
All bloggers have the same goal; to drive traffic to their site. Cath will educate you in what you need to know to succeed in your journey and inspire you with the story of her journey."
- Gwendolyn from RealWorldHomesteaders.com
Now you're probably at the point where your doubts are rolling in.
You may be thinking...
1. 'I don't believe in anything anyone has to sell in an online course.'
Ouch. I used to have this mindset too. I thought that everything I needed I could get for free. But that's just not the case. If you want to see real results you have to be willing to the your money where your mouth is. The importance in investing in an online course is knowing that the instructor has experience with what they're teaching. And I've got that!
2. 'I just started my blog, I can't afford to buy a course.'
Have you ever heard of the phrase you have to spend money to make money? If you don't invest in your blog now you're probably never going to invest in it. Plus with all the information and bonuses included, this course is worth way more than what you're paying!
3. 'I doubt these strategies will work for my niche.'
I've worked with food bloggers, travel bloggers, blogger bloggers, fashion bloggers, fitness and wellness bloggers, mental health bloggers, parenting bloggers and more. These strategies work for all niches. Trust me… it will work for yours as well.
I used to have all 3 of these doubts myself.
I wasted months trying to do it on my own. I sat back and watched my blog get no where. Don't make the same mistake I did by caving into these limiting beliefs.
It's time to stop holding yourself back.
It's time to start actually growing that blog!
Meet Cathrin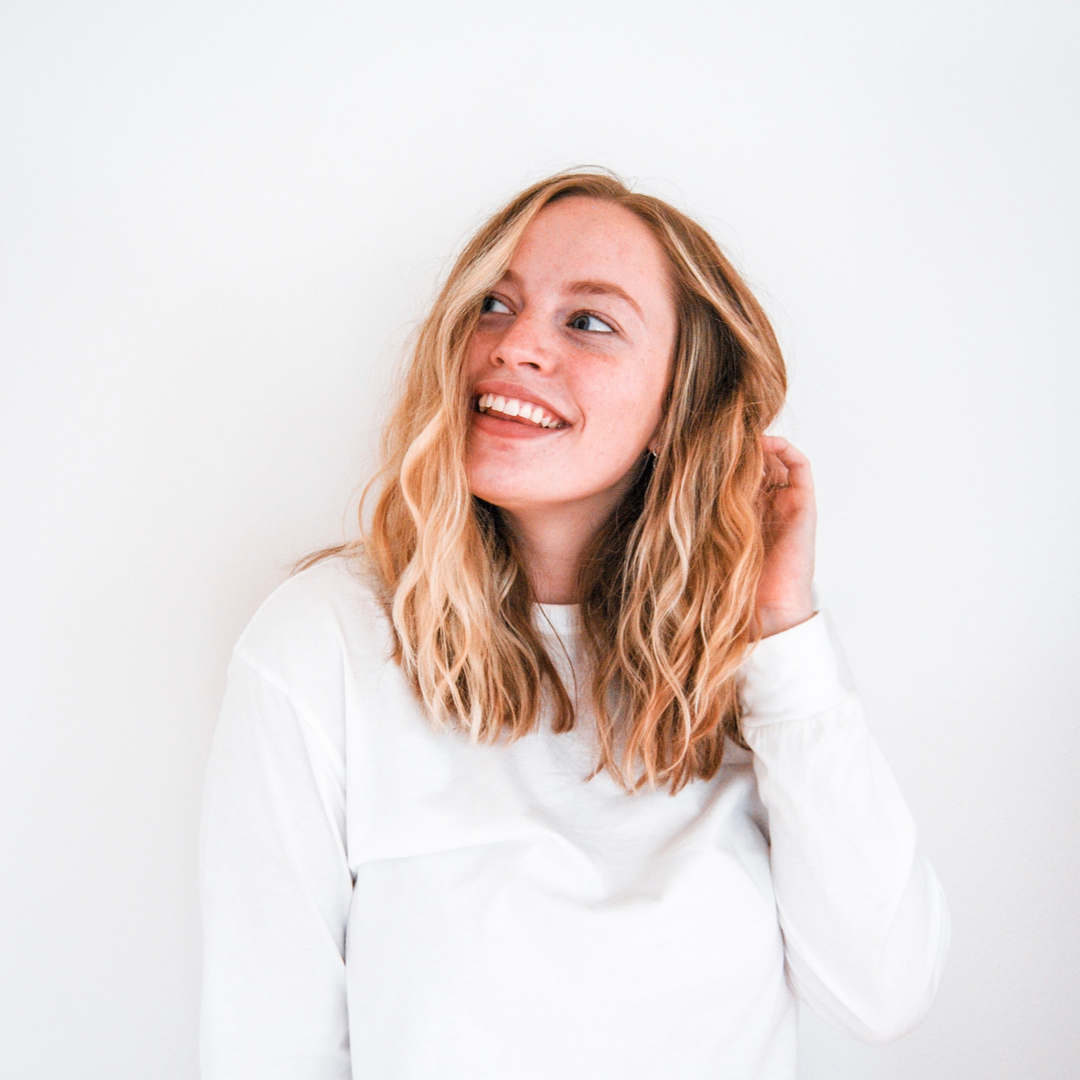 Cathrin Manning is the owner and creator at TheContentBug.com. She creates content that encourages bloggers & online entrepreneurs to be themselves, chase their passion, and create their success online. 1 year after started her blog (TheContentBug.com), Cath left her full-time position working in the digital marketing industry to pursue her dreams of being her own boss. Through weekly blog posts, sporadic YouTube videos, and constant talking on Instagram stories, Cath hopes to spread her story and be an inspiration to others who desperately want to change their lives.
Frequently Asked Questions
1. What if I'm new to blogging & don't know the tech stuff?!
I made sure that all the information included in this bundle is easy to understand for bloggers of all levels! Techy language is overrated. Plus anything you have questions on is a great idea for the vault of mini-lectures​!
2. How much time will I need to dedicate to this course?
My goal with creating 5 simple lectures is that you can complete 1 lecture a day, 1 a week, or 1 whenever you have time. So the amount of time it will take you to complete the course is up to your schedule! But if you're fast, then you can get this done in just 5 hours! And if you have to pause a lecture and come back to it later, you can do that too.
3. What happens when I sign up?
Once you click the purchase button and enter the needed information, you'll receive instant access to all the information that is included in the bundle! Including all the bonuses I talked about. Nothing too complicated :)
4. How long will I have access to the contents of this bundle?
It is created to be completely self-paced so that you can decide to start when you want and work on it when you have the time. Plus you'll have access to the product FOREVER!
5. What if I am unhappy with the bundle after purchase?
Because of the downloadable nature of this product, there are no refunds available.
You have 2 choices:
1. You could grow your audience & impact online.
or
2. You could continue treading water waiting for a miracle to happen.
What's it gonna be?
Here's what's gonna happen when you press that purchase button:
1. You'll be brought to another page to enter your email address and payment information,
2. You'll hit the button at the bottom to confirm your purchase,
3. And then you'll be brought inside the course platform!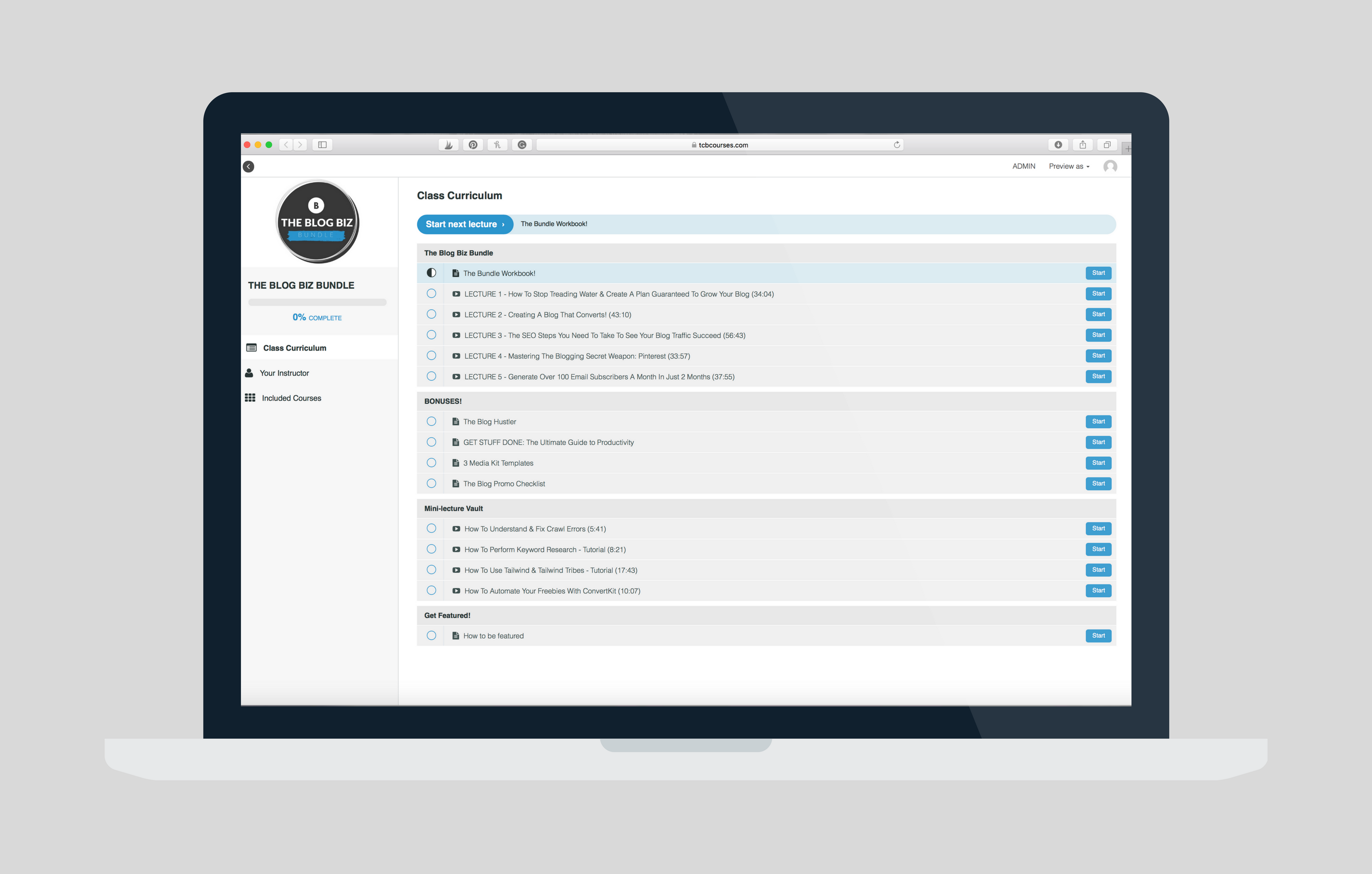 It's that easy, I promise!

Once you sign up you'll get instant access to the course platform and the information we just talked about including the video lectures, a course workbook, and all the bonuses!
LAST LOOK AT WHAT'S INSIDE:
After completing this course, you'll...
- Have a set growth plan in place with the exact steps you need to follow in the next 90 days to achieve your goals,
- No longer wonder if your blog is appearing for search on Pinterest and Google and start driving traffic while you sleep,
- Reel in more email subscribers than ever before with the killer email opt-ins you put in place,
- Stop searching Google for the answers to your questions because you already have the strategies you need,
- Feel as though you're living up to your fullest potential by growing a blog that makes a meaningful impact on the world.
But none of this will happen if you wait for the perfect moment to get started.
The perfect moment will never happen. And tomorrow will never come.
So you might as well let today be the start to the rest of your life.
Join the other Blog Biz students who are already growing their blog's faster than they thought possible.