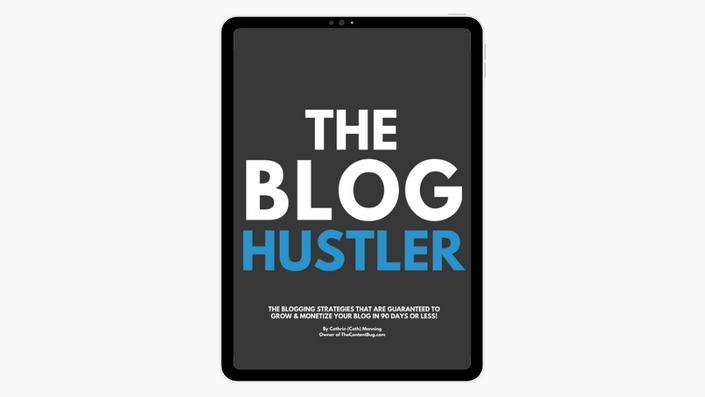 The Blog Hustler (ebook)
Your step-by-step guide to create a plan that will grow & monetize your blog in 90 days or less!
Have you been wondering...

Why your blog stats remain stagnant while other bloggers seem to be growing their pageviews with ease,
How others are growing their social media following while you can't figure out why yours keeps fluctuating daily,
If you should give up on blogging altogether since clearly none of the strategies you've read about are working.
If that sounds like you, then I know exactly how you feel.
Not too long ago, I was struggling to grow my blog too.
I couldn't figure out how others had managed to grow their page views, income, and social media following while making it look so easy!
After a much needed wakeup call, I decided to create a plan for my blog and change my work habits.
Within 3 months, I doubled my page views, started to generate over 100 email subscribers a month, AND I left my full-time position to take my blog biz full-time.
Now I'm my own boss living out my dreams every single day.
And I want to help you do it too!
Introducing The Blog Hustler
I wasted months searching Google and copying other people's strategies. I thought that if I just got my hands on the right information something would change.
But it never did.
After struggling for months to grow my blog, I decided to finally take matters into my own hands and create my own strategies.
Now I'm sharing my secret blogging strategies with you.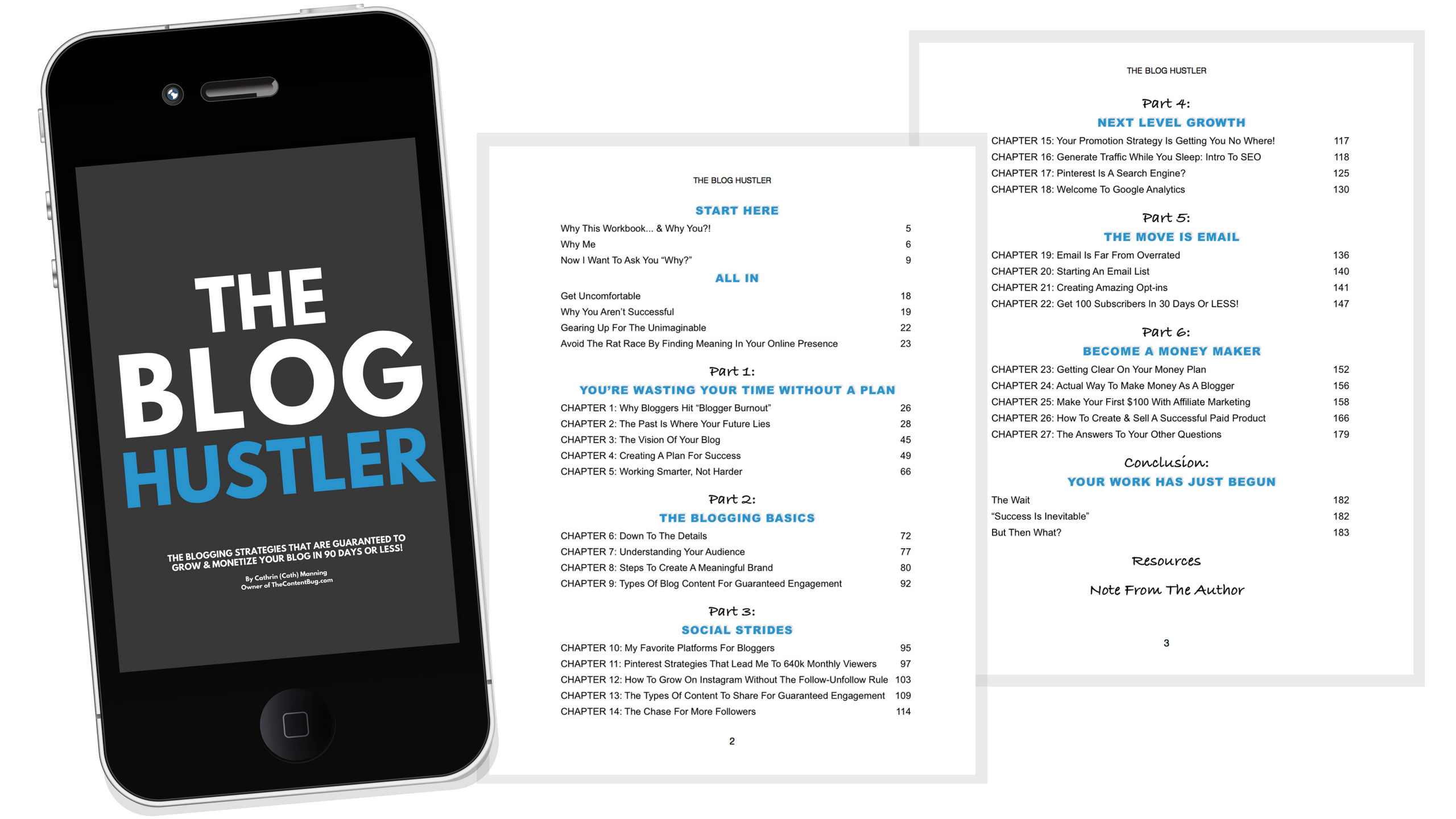 This 150+ page ebook designed to provide you with the strategies and action steps to actually grow your blog in 90 days or less.
And trust me... these strategies work!

- Why This Workbook... & Why You?!
- Why Me
- Now I Want To Ask You "Why?"

- Get Uncomfortable
- Why You Aren't Successful
- Gearing Up For The Unimaginable
- Avoid The Rate Race By Finding Meaning In Your Online Presence

- Chapter 1: Why Bloggers Hit "Blogger Burnout"
- Chapter 2: The Past Is Where Your Future Lies
- Chapter 3: The Vision Of Your Blog
- Chapter 4: Creating A Plan For Success
- Chapter 5: Working Smarter, Not Harder
- Chapter 6: Down To The Details
- Chapter 7: Understanding Your Audience
- Chapter 8: Steps To Create A Meaningful Brand
- Chapter 9: Types Of Content For Guaranteed Engagement

- Chapter 10: My Favorite Platforms For Bloggers

- Chapter 11: Pinterest Strategies That Lead Me To 640k Monthly Viewers
- Chapter 12: How To Grow On Instagram Without The Follow-Unfollow Rule

- Chapter 13: What Types Of Content To Share For Guaranteed Engagement

- Chapter 14: The Chase For More Followers

- Chapter 15: Your Promotion Strategy Is Getting You No Where!
- Chapter 16: Generate Traffic While Your Sleep: Intro To SEO

- Chapter 17: Pinterest Is A Search Engine?

- Chapter 18: Welcome To Google Analytics


- Chapter 19: Email Is Far From Overrated

- Chapter 20: Starting An Email List

- Chapter 21: Creating Amazing Opt-ins

- Chapter 22: Get 100 Subscribers In 30 Days Or LESS!


- Chapter 23: Getting Clear On Your Money Plan

- Chapter 24: Actual Ways To Make Money As A Blogger

- Chapter 25: Make Your First $100 With Affiliate Marketing

- Chapter 26: How To Create & Sell A Successful Paid Product

- Chapter 27: The Answers To Your Questions

- The Wait
- "Success Is Inevitable"
- But Then What?
Let The Blog Hustler be your step-by-step guide to create a growth strategy for your blog that will actually work!
Frequently Asked Questions
1. How long is this ebook?
It's about 190 pages in length! But I technically wouldn't really call it an ebook because it's more of a workbook! Each chapter is filled with action steps for you to complete to make sure that you are getting the most of the material included.
2. Will I get a physical copy of the book?
No. This is just a digital copy of The Blog Hustler. However, there is a printer-friendly​ version included so you can get the most of the material included.
3. How can I get access to this ebook?
Once you sign up, you'll get instant access to the ebook! Simply download your copy and save it to your computer, tablet, or phone!
4. Are there refunds available?
Because of the downloadable nature of this product, there aren't any refunds. All sales are final.
Here's what's gonna happen when you press that purchase button:
1. You'll be brought to another page to enter your email address and payment information,
2. You'll hit the button at the bottom to confirm your purchase,
3. And then you'll be brought inside the platform to download your copy of the ebook!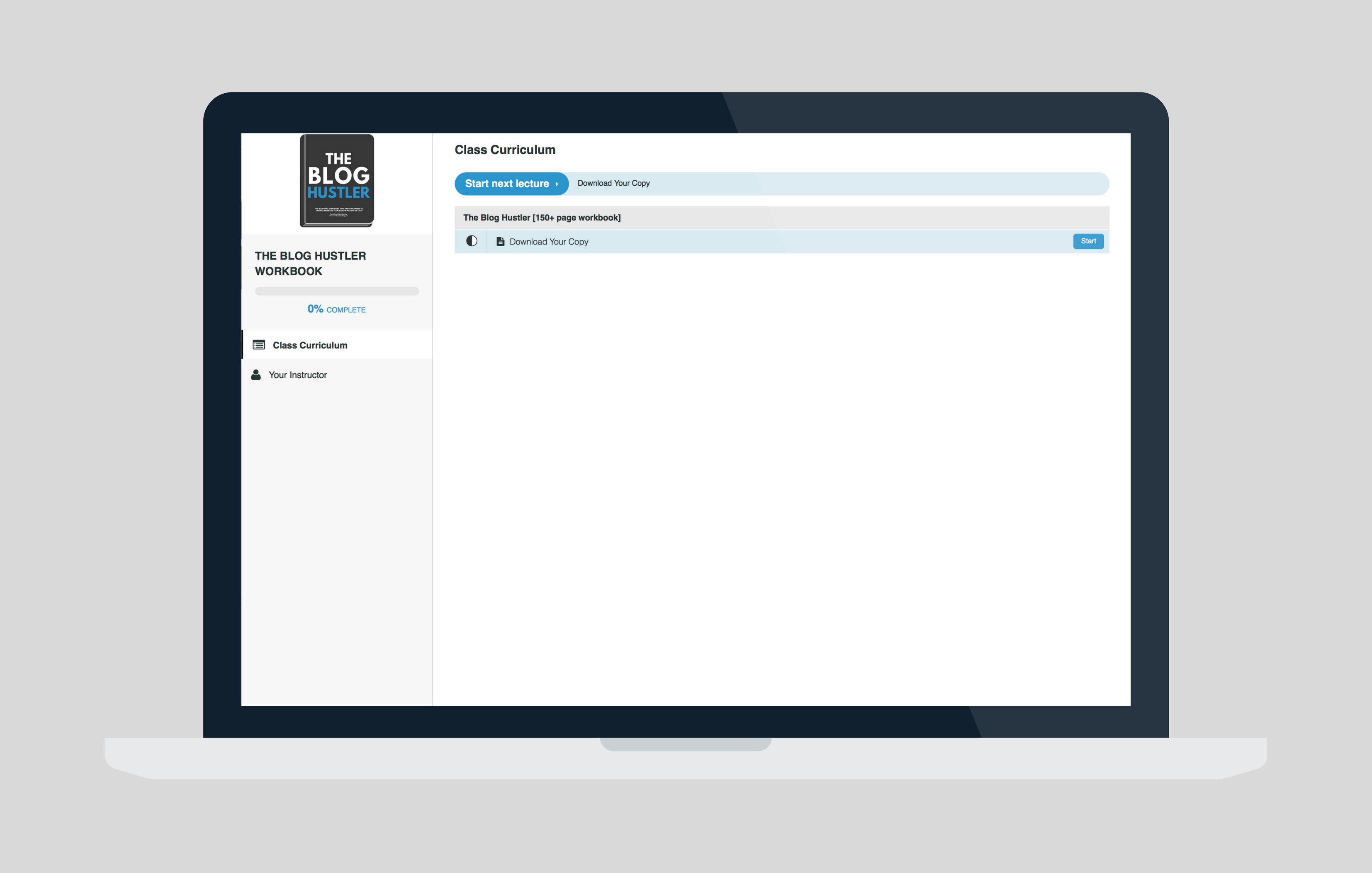 It's that easy, I promise!

Once you purchase the ebook, you'll gain immediate access to the book! You'll want to download a copy and save it to your computer so you always have it on hand.